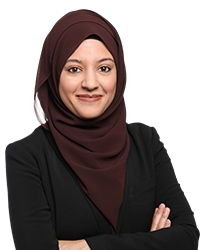 Maryam Arfeen represents an expansive range of clients in litigation in both state and federal courts. She has represented professionals, companies, and their insurers in commercial litigation, employment litigation, medical malpractice and personal injury litigation. She also has experience with civil rights, whistleblower and contract disputes.
Maryam participates in all phases of litigation, including drafting pleadings, preparing discovery, conducting and defending depositions, and preparing motions and briefs. In addition to appearing in court, she has represented clients at arbitrations and mediations.
PUBLICATIONS
Maryam is a regular contributor to Aronberg Goldgehn's Employment Law newsletter, Employment Law Trending Now, including:
PROFESSIONAL BACKGROUND
Maryam joined Aronberg Goldgehn as an associate in June 2018. She was previously an associate attorney at a mid-sized Illinois law firm where she represented clients in employment law, insurance defense litigation, medical malpractice and commercial litigation.
Prior to entering the private practice of law, Maryam also served as a postgraduate fellow with the Center for Conflict Resolution, where she supervised mediations and mediated smalls claims and landlord/tenant cases.
While at Notre Dame Law School, Maryam served as a law clerk for the Cook County State's Attorney's Office, the Equal Employment Opportunity Commission and the Chicago Lawyers' Committee for Civil Rights.
In addition, while in law school, Maryam served as a Senior Articles Editor for Notre Dame University's Journal of College and University Law (JCUL).
Maryam is fluent in English and Urdu, proficient in Spanish, and possesses some knowledge of the Arabic language.
LEADERSHIP ROLES
Illinois State Bar Association's Inaugural Leadership Academy, Member (2019-2020)
Illinois State Bar Association, Standing Committee for Racial and Ethnic Minorities in the Law, Member (2019 - )
COMMUNITY INVOLVEMENT
Center for Conflict Resolution, Auxiliary Board Member (2015-present)
CARPLS, Volunteer Attorney
RELATED NEWS
University of Notre Dame Law School, J.D., 2014
Loyola University of Chicago, B.A. Political Science and International Studies, magna cum laude, 2011
BAR AND COURT ADMISSIONS
Illinois, 2014
Indiana, 2017
U.S. District Court for the Northern District of Illinois, 2015
U.S. District Court for the Northern District of Indiana, 2018
MEMBERSHIPS
Illinois State Bar Association
Chicago Bar Association
Muslim Bar Association
South Asian Bar Association
Notre Dame Alumni Association
Indiana State Bar Association
PERSONAL
In her free time, Maryam enjoys watching TV shows and participating in physical activities such as biking and high-intensity interval training (HIIT) workouts. She also enjoys trying new restaurants and traveling internationally.
What is one item on your bucket list? To hike the Inca Trail to Machu Pichu.
What would you be doing if you weren't a lawyer? I would be writing screenplays for TV shows because I love writing and I love television.
What is your favorite place in Chicago? The Lakefront